Swedish Massage OKC
If you are researching enjoyable things to do in Hochatown, getting a massage is always an excellent choice. Why wait for a Swedish massage OKC when you can enjoy one in your cabin? Our Swedish massages in Broken Bow Oklahoma are perfect for promoting relaxation and relieving bodily tension. Also called a classic massage, this is one of the most popular options for our in-cabin Broken Bow spa experiences. While Swedish massage may be a "classic," that does not mean that it is generic or choreographed – your therapist will customize your massage to your needs to promote your body harmony.
During your Swedish massage, your therapist will customize the pressure used and focus on any problem areas to create the perfect flawless massage in Broken Bow for easing your body and mind. This technique promotes deep relaxation by releasing stress-induced muscle tension. Your Broken Bow massage experience will have many benefits for your body and mind, including restored muscles, improved circulation, invigorated skin, and a calmer nervous system.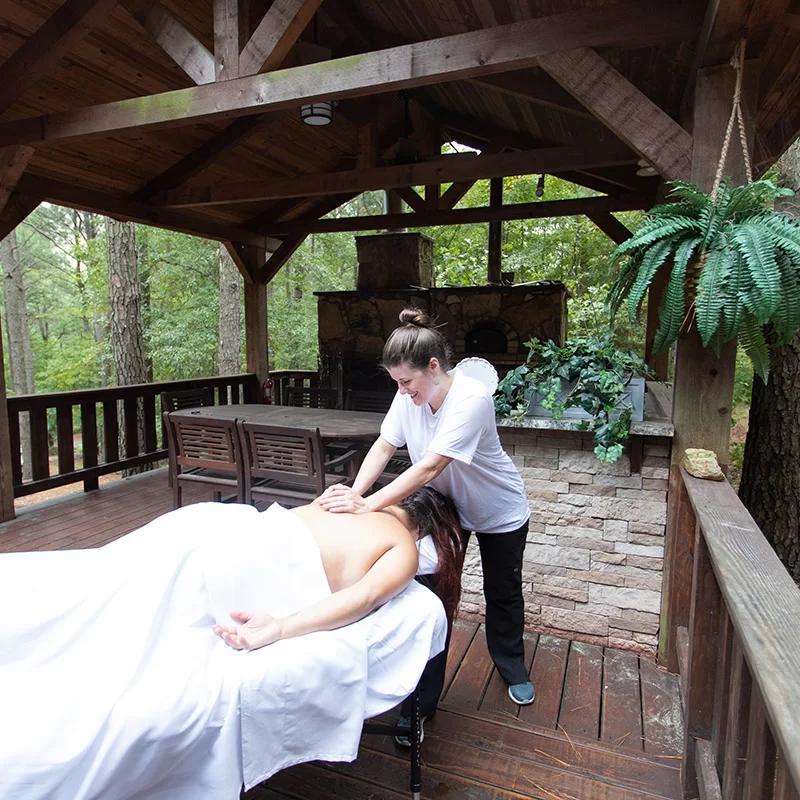 Creating Your Perfect Broken Bow Massage
Our team thoughtfully designed each element of our Broken Bow massage experience to ensure that your Swedish massage brings you relief and relaxation. Your massage therapist begins helping your body harmony as soon as they arrive at your cabin by transforming it into a personalized spa through our curated spa music playlist and setting the perfect room temperature. We want you to be entirely comfortable, which is why our luxurious and sturdy massage tables are paired perfectly with quality linens.
We are passionate about providing quality in-cabin spa experiences because we have seen how effective they are at helping your long-term health. That is why all of the products that we use for our Swedish massages in Broken Bow Oklahoma are pure, clean, and hypoallergenic. We carefully selected our rice oil, grapeseed oil, and massage creams so that each will enhance your experience and promote long-term skin health. Your therapist can also incorporate essential oils into your experience by request. Each essential oil brand that we use adheres to our strict purity standards.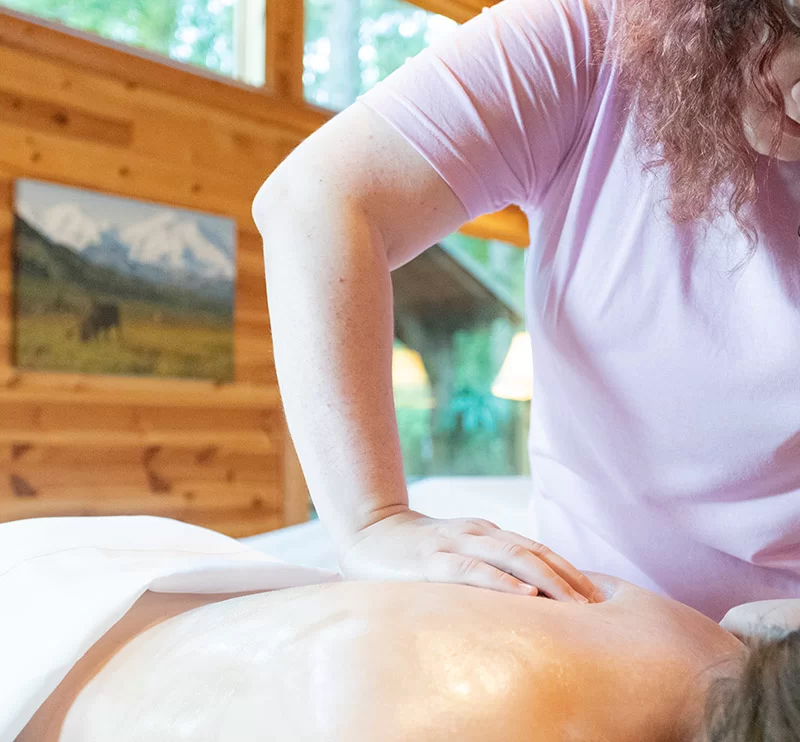 To further customize your experience, we offer a variety of add-on services so our massage therapists can create your ideal flawless massage in Broken Bow. Each add-on service is thoughtfully designed to help your Swedish massage increase your relaxation and promote full-body rejuvenation. Our back treatment can relieve soreness through our quality scrub and charcoal mask. Our foot treatment is the perfect choice at the end of a busy day through its sugar scrub and hot towels.
Two of our add-on services are the perfect requests if you would like to extend your in-cabin spa experience. For an additional thirty minutes, our face treatment creates a healthy glow through our masque, exfoliator, hot towels, and more. With an additional 20 minutes, our foot treatment service helps smooth your skin, using our soothing hot towels and relaxing sugar scrub.
Getting a Swedish massage is one of the most relaxing things to do in Hochatown. Why travel to get a Swedish massage OKC? We offer two different session lengths to create the perfect in-cabin Broken Bow spa experience for every client. With any session length you select, you will receive the relaxing benefits and thoughtful service that A Servant's Hands Massage Therapy dedicates itself to providing.
In addition to these session lengths, two of our specialty massage packages can be excellent choices for your Swedish massage. If you are in the area for a couple's vacation, our Couples Massage package can be a perfect choice so you can relax together. Through our Spa Time package, you can relax for 90 minutes with our face treatment, foot treatment, and soothing essential oils in addition to your massage.
90 Minute (1 ½ Hour)  $160